Contradicting Hairstyles Worn by Victoria Beckham and Eva Longoria Parker Mimic Their New LG Fashion Touch Mobile Phone Styles
Posted on May 26, 2010, 1:05 PM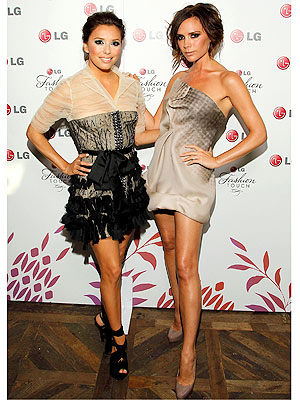 Contradicting Hairstyles Worn by Victoria Beckham and Eva Longoria Parker Mimic Their New LG Fashion Touch Mobile Phone Styles
On Monday night, fashion front runners Victoria Beckham and Eva Longoria Parker hosted the launch of the new LG Fashion Touch mobile phone at Soho House in West Hollywood, California. The event brought together Beckham's bold and edgy style to life with the LG Lotus Elite while Longoria Parker's more classic taste radiated through the LG Rumor Touch phone.
The duo designed each of their mobile phones to be fashion-forward and stylish and while Beckham's tousled bob was well done and very glamorous, Longoria Parker's pulled back style looked a bit like she was running late and threw her hair up right after getting out of the shower. Both of the famous ladies are well known fashion enthusiasts and obviously have great personal style but we can't help but wonder what Longoria Parker was thinking with this hairstyle? What would we have done differently? Well, for starters, Longoria Parker has gorgeous hair and is known for her super healthy, long brown locks. We think she should've opted to wear her hair down and silky smooth to counteract Beckham's short tousled waves.
What's the best way to achieve a silky smooth look for a fancy event? Start off with clean, damp hair and add in a small amount of smoothing product (like Citre Shine Shine Anti-Frizz Serum). Blow dry in sections with a paddle brush (like the Goody Pro Vented Cushion Paddle Brush for Straightness) until hair is competely dry, aiming the blow dryer down toward the ground and away from your roots. Finish off with a flat iron and a tiny amount of hairspray to set your hair (like Paul Mitchell Super Clean Hair Spray)
Wanna try out Beckham's tousled waves? If you have a chic, cropped hairstyle like Beckham, then this is definitely something that you need to master for special occassions and fun nights out with the girls. Start out by shampooing with a volumizing shampoo and conditioner (like LiQWD Volumizing Shampoo and Conditioner). This will provide you with a little extra boost since your hair is short and we want the waves to sit a little off of your head. Next, part hair to one side of your head and let air dry until your entire head is completely dry. Finally spray hair with a heat protectant (like Got2b Guardian Angel Heat Protect N' Curl Iron Spray and Gloss Finish) and use a 1 inch curling iron to do sporadic curls through out your head. Finish with a light hairspray (like David Babaii For Wild Aid Light Hold Hairspray) and you're done. This 'do is easy for short-haired girls and will instantly take you from day to night.
Other stylish celebrities in attendance were Jessica Simpson, Ashlee Simpson, Vanessa Hudgens, Kim Kardashian, Khloe Kardashian, Anna Kendrick and Rachel Zoe…all whom of which, looked fabulous.
What do you think of Eva Longoria Parker's hairstyle at her LG Fashion Touch launch event? Yay or nay?