Carrie Underwood Already Has Her Wedding Look Planned Out
Posted on January 29, 2010, 12:29 PM
A lot of brides spend time worrying about their wedding hairstyle and makeup, but it seems that country crooner Carrie Underwood already has that aspect of her wedding under control. A friend of the singer told USMagazine.com that the Underwood is ai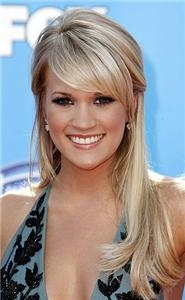 It sounds like the singer has her wedding hairstyle and makeup planned out.
Sounds like a great idea to us! However, Underwood added that her hockey-playing beau, Mike Fisher of the Ottawa Senators, will be helping her work out the rest of the wedding details.
Underwood told the news source that Fisher was at first apathetic towards planning the big day, but lately he has become more invested in the decisions.
"He's like, 'Oh, I don't care. Just whatever you want!' "Underwood said. "But then I go and ask him, 'What do you think about this?' and he'll go 'Oh, no,' and he'll weigh in."
We're glad that Fisher is stepping up to the plate, because the blonde bombshell seems to be one busy lady! It was recently announced that the singer will be performing in the Michael Jackson Tribute at this year's Grammy Awards.