Cameron Diaz brings back the bun
Posted on November 10, 2009, 2:51 PM
Thought ballerina buns should have been left in grade school ballet class? It's time to think again!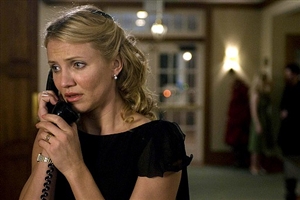 Cameron Diaz can be seen on the big screen in "The Box."
Even though we haven't had Thanksgiving yet, some trendsetters are looking forward to spring hairstyles. Cameron Diaz, pictured here, was recently seen wearing a cute ballerina bun to the premier of her new film, "The Box," Stylelist.com reports.
Her ballerina bun was a lot softer than those worn by professional ballerinas, but the affect was the same. Diaz's hair was tightly wrapped on top of her head, with a few stray strands hanging around her face for a romantic look.
The website reveals that the new ballerina buns had their debut at designer Charlotte Ronson's spring 2010 fashion show.
For those who want to copy the style, beautybanter.com offers advice from stylist Jen Atkin of the Andy Lecompte Salon. Start off by blow drying hair with your head tipped upside-down to create volume, then curl select 1" thick chunks of hair to add messy waves.
Use fingers to pull hair high onto your head, the website explains, and twist clockwise into a tight bun. For extra volume, backcomb hair before twisting and allow ends to stick out for a messy, sexy look.