Is Beyonce's Unrelaxed Curly Hair a Giveaway that She's Pregnant?
Posted on October 20, 2010, 3:04 PM
Or is she just enjoying a low-maintenance hairstyle?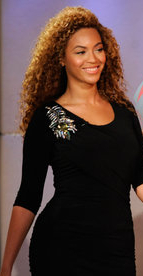 Photo Courtesy of: AP
Beyonce Knowles is rumored to be pregnant -- again. Bun in the oven rumors surfaced for the voluptuous singer back in March only to be shot down by her PR peeps. This time around, we have more evidence. Exhibit A: UsMagazine.com cites "sources" who say, "B was shocked. She loves kids, but she wasn't ready to be a mother just yet. She really wanted to get her album done and tour the world again." Another source said, "This is a gift from God and she's so happy." Now while these quotes sound fairly convincing, we ask the reader to look at Exhibit B: Beyonce's unrelaxed
curly hair
.
Beyonce has been wearing her hair au natural with no relaxers and beauty mavens are wondering if her curly hairstyle is simply a result of missing a salon appointment, or if she's intentionally keeping her hair free of chemicals. Those who are trying to have a baby, or are expecting, are recommended to avoid introducing any foreign chemicals into the body, including hair products. Ammonia and lyke are common in hair products and are also in relaxers.
Though nothing is confirmed from either Beyonce or hubby, Jay-Z's, camp, a reporter from "Us Magazine" asserts the 29-year-old is in her first trimester and the baby is due next spring.
The Hollywood couple has been known to keep their lives private and had a super- secret wedding ceremony in New York in April 2008. And, while, nothing has been confirmed of the baby rumors, Beyonce did talk about motherhood earlier this year.
In an interview with "Allure" magazine, she said, "I definitely want to have a child, but I know from my nephew it's a lot. I hope that those things will just happen naturally. I still haven't had time to relax."
Hubby Jay-Z, real name Shawn Carter, has reportedly wanted children for some time now as he is 40-years-old.
Beyonce told "Access Hollywood" back in 08 that she wasn't sure when she would want children.
"The kids, I don't know ... in three years, maybe. It's a lot of work," she said. Well that three-year mark is coming up. Do you think the couple jumped the gun or is Beyonce just short on time to get her hair did?
-- Sharon J. Yi