Are Eva Longoria and Tony Parker Divorcing?
Posted on November 16, 2010, 2:19 PM
TMZ.com has reported that divorce papers have been filed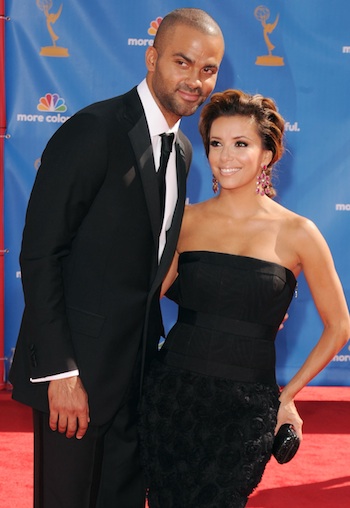 The Couple, Seen Here At Last Year's Emmy Awards, Is Rumored To Be Divorcing
Although their reps are busily denying the rumors, TMZ.com is reporting that after three years of marriage, Eva Longoria and her husband, NBA star Tony Parker, have filed for divorce.
The website cites "Two court officials at the Bexar County, Texas courthouse" who have told them that "a divorce case was filed yesterday and sealed by the judge." Parker is a point guard for the San Antonio Spurs.
And, amid the claims from the P.R. people that there's not truth to the rumors, Eonline.com's Marc Malkin points out that Longoria just pulled out of a taping of Anderson't Cooper's "CNN Heroes of 2010" that she was supposed to have taped this weekend. And, let's face it, she
did
show more than a little of her
body
while
hosting the MTV Europe Music Awards
last week.
Stay tuned, we've only just begun to hear the details of this story...
--Audrey Fine