Health
You Booze, You Lose (Sleep, That Is)
The 5 things you love more than life are likely robbing you of zzz's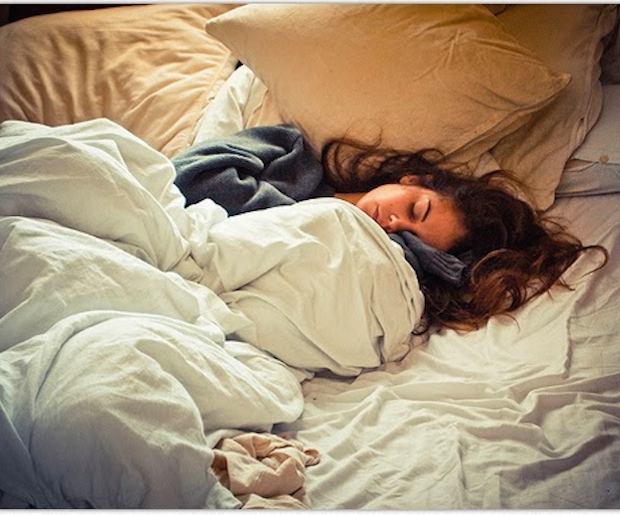 If I wasn't so dang tired, I could sit here and type up a whole bunch of ways that sleep is important for you. About how it helps to regulate the body, keeps stress in check, appetite under control, brain function firing on all synapses and all sorts of other great things. But in the interest of keeping both you and I awake, let's just cut to the chase and agree to agree that getting a good night's sleep is of paramount importance to pretty much every, single, solitary aspect of your well-being.
READ: True or False: Sleeping on Your Face Causes Wrinkles?
Now, in order to keep those flipping sheep out of your bedroom and with Bo Peep where they belong, and to ensure a divine, REM-incorporating 8 hours as often as possible, there are certain things you can do.
Who's with me?
#1: Step away from the Starbucks. Your last cup o' Joe should happen sometime before noon; caffeine stays in your system for a long time. "After seven hours, much of the stimulant will be gone from your system, depending on your sensitivity to it -- but 25% of it could still be there," Prevention magazine notes. "It can also increase nighttime urination and otherwise adversely impact your sleep," Dr. Andrew Weil, director of the Arizona Center for Integrative Medicine, says.
READ: 5 Overnight Hairstyles that let You Wake Up and Go
PS. Avoid alcohol, too. It disrupts REM sleep (especially in women) and, like coffee, is a diuretic, which will keep you running back and forth to the bathroom all night.
#2 Take a load off: Being disciplined enough to
force
yourself to unwind for at least 5 minutes when you get home at the end of the day will work wonders towards dictating how quickly you're able to fall asleep -- and how long you remain in a state of slumber. Set aside a few moments to try some meditation, to have a cup of (decaffeinated) tea, to read a book, lie down, etc. Whatever it takes to help tell your brain that the shift from active daytime to more calm evening time has begun.
#3 Get your O on: Oxytocin and prolactin, two calming, sleep inducing hormones are released when we orgasm - so, whether you're with your partner or alone, getting off will get you a good night's sleep.
#4 Turn off the electronics! Not only do they keep your mind racing with things you have to do (Candy Crush is
not
a priority, people), the light they emit has been proven in studies to suppress the production of melatonin -- one of the key hormones we produce that helps to induce a sleepy feeling and a good night's rest.
#5 Breathe deep: May sound hokey as all crunchy granola but aromatherapy
can
help calm you and get -- and keep -- you down for the night. Upset or frustrated? Hope Gillerman, certified aromatic healer, says lavender will do the trick. "Studies show it's one of nature's best sedatives." And if you're feeling inundated, Gillerman recommends trying spikenard, vetiver, frankincense, myrrh and clary sage, as "these oils will slow you down to promote a heavier, more restorative sleep."