Hairstyles
Steal Bridal Looks Straight from the Runways
Recreate gorgeous hair and makeup from Spring/Summer 2013 shows for your Wedding Day
Though some runway looks can be truly outrageous, others can be the perfect inspiration for your wedding day look. As a professional hair and makeup artist, I'm always looking for new ideas to present to a prospective bride. Thanks to the recent Spring/Summer 2013 fashion shows I have a whole heap of dreamy hair and makeup looks -- fresh off the catwalks -- to suggest to my clients. Here are three of my favorite, which are romantic, simple, and ideal for the DIY bride.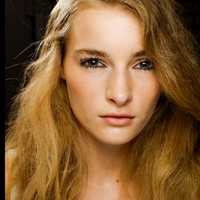 "The Princess Bride" from Phillip Lim
Hair:
The best part of this hair is you get to start with your natural texture. It will take some practice to get the style just right so try this several times before committing on your wedding day.
Step 1: Sleep on damp hair. When you wake up, lightly spritz all over with a volumizing spray.
Step 2: Braid your hair using a variety of different sized sections -- leaving some sections without braids completely. Allow to braids to dry. Clamp a flat iron over the braid to set it a bit.
Step 3: Once the braids are completely dried and set, release them and use a boar bristle paddle brush to brush through all of your hair. If some of the sections are fluffy, run a small blob of anti-frizz serum over them.
Step 4: Use your flat iron again to smooth over alternating, two-inch wide fuzzy sections from roots to ends, twisting your wrist here and there to achieve a small wave about mid-way down.
Step 5: To add volume as needed, rub sections of hair between your palms to rough up roots or ends. Spray with flexible hold spray. Consider adding a halo braid at your hairline or two braids just above your ears that join together in the back of your head.
Makeup:
Ginormous lashes are the key to this sweet and innocent effect.
Step 1: First, curl your lashes.
Step 2: Holding a volumizing mascara wand (try
Cover Girl Lash Blast Waterproof
, $7) vertically, flick your wrist left then right (think windshield wiper motion) to coat your lashes. This motion will join several lashes together at once giving the appearance of super thick fringe. Repeat along lower lashes.
Step 3: Run a line of black liner just below your lower lash lines to widen your eyes and smudge its edge with your fingertip or a cotton swab.
Step 4: Apply a light dusting of your favorite blush and one layer of a fair nude lip tone.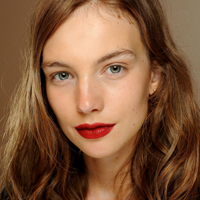 "Mrs. Scarlet" from Burberry
Hair:
Loose waves will allow your bold statement lip to steal the show.
Step 1: Starting with a smooth blowout, use a one-and-a-half inch barrel curling iron to wave every other section of your hair away or toward your face (in other words, alternating each section in a different direction). This will ensure the waves don't join together in one "sheet" of hair, giving more life to your waves.
Step 2: Allow the waves to cool completely. Then, use a texturizing, salty spray (this
Wella Ocean Spritz Beach Text
, $16, is amazing) to gently spritz the top layer of your hair from mid strands to ends. Scrunch your hair in your hands to emphasize waves and give texture all over.
Step 3: Create a deep side part and smooth any frizzies at your roots with a shine spray or flexible hold hairspray.
Makeup:
Keeping your base makeup simple (save for your crimson lips) and your skin extra dewy is the best way to achieve this radiant look.
Step 1: Substitute all over foundation for a glowy, tinted makeup primer. (
Dermalogica Skin Perfect Primer
, $48, is great.) You'll reduce redness and keep your natural skin texture showing through. Just be sure to apply it everywhere
but
your forehead, you don't want to look shiny there in photos. Instead use a use translucent powder along your T-zone.
Step 2: Curl your lashes and apply two coats of your favorite black waterproof mascara.
Step 3: Then make sure your lips are exfoliated and moisturized before you apply a crimson red matte lip color to them. A chubby pencil may be easiest so you can perfect the outer edges of your lips. Try
Nars Velvet Matte Lip Pencil in Dragon Girl
, $24, a red that looks incredible on every single skin tone.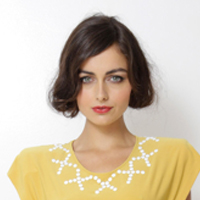 "Married to the Bob" from Norma Kamali
Hair:
If you want a retro look without the commitment of getting a full cut, this is perfect.
Step 1: Follow the instructions for the hair portion of "Mrs. Scarlet," above.
Step 2: Create your faux bob by tucking and rolling the length of your hair under with bobby pins, securing at the lower edge of your hairline. You may need a bobby pin every inch or so to keep the edge even. If you have very thick hair, you can create a very loose, low ponytail, then tuck the elastic and all the tail under, securing the same way with bobby pins every inch or so.
Step 3: Shake your head and allow some of the front waves to fall slightly looser and out of your bob. Spray with flexible hold hairspray. You may even consider wearing your veil below your faux bob or skipping a veil all together and wearing a bejeweled head wreath, tiara, or comb.
Makeup:
Be sure to keep your makeup colors in the romantic pink or rose family.
Step 1: Rim your eyes with your favorite bronze or black brown liner. Curl your lashes and apply mascara.
Step 2: Buff a soft, pink blush over your apples (try
Nars The Multiple in Portofino
, $39, which is a radiant pink that looks great on many skin tones). Apply your favorite pink-toned lip color, and use a tissue to blot and mattify your color, making it kiss proof.