Diet
The Corset Diet? We'll Pass (And So Should You)
Thinking about (literally) reining in your waistline? Think again...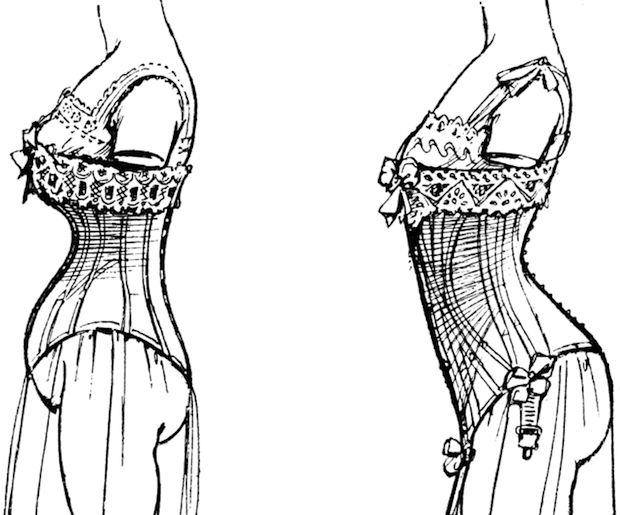 2013 was the year of the Paleo diet
, suggesting that we all channel our inner cave people and gnaw away at entire pigs on a spit with a twigs and leaves chaser (or something like that). But, as popular as it was, like everything else, diets have their 15 minutes of fame and then another comes along to snatch the spotlight.
Enter the Corset diet. That's right, corset as in: "a garment worn to hold and mold the torso into a desired shape for aesthetic purposes." (Notice that nowhere in that definition did the words 'weight loss' or 'bright idea' appear.)
While Catherine de Medici (King Henry II of France's
femme
) is credited with having concocted the concept of corseting back in the 1550s, researchers have traced its origin back 350 years earlier to ancient Crete. The purpose? To make the waist smaller to create the coveted "hourglass" shape -- either in the short term, or, where "tight lacing" came into play, permanently.
READ: Healthy Lunchbox Makeovers
Fast-forward to 2014 and, sexual fetishes notwithstanding, the corset is now being used as a weight loss apparatus. The concept is simple enough; if you shrink-wrap your torso into a tight enough casing, the thought of ingesting anything larger than a peanut becomes an unpleasant one. Indeed, TheCorsetDiet.com extols the virtues of binding your gut, so that you might lop off 6lbs. a week from your bottom's line.
As with every cockamamie "As Seen on TV" type product on the market, corsets, too, have their share of "Experts" extolling their virtues -- in this case, bona fide MDs -- swearing every way but Sunday that the contraptions work to encourage everything from a smaller waist to curbed calorie consumption.
Not surprisingly, there are other medical professionals who are appalled by the mere suggestion of cinching yourself skinny. As Dr. Jyotindra Shah told the Huffington Post, "People might put it so tight that the liver, spleen and kidneys could get bruised." Oh, and you also run the risk of cracking a few ribs in your quest to get a Scarlett O'Hara-sized waist.
READ: 8 "Healthy" Snacks that are More Fattening Than a Twinkie
If the thought of jeopardizing your internal organs isn't enough to send you to the Elliptical machine instead, how's this for an argument against the Corset diet? According to
The Daily Beast
, "Wearing a corset can constrict oxygenation," a process that helps your body functions -- including your metabolism. Last time we checked, speeding up your metabolism, not squeezing it into a coma, was of paramount importance when it came to shedding excess poundage.
So, if you're looking to lose weight this year, may we suggest putting off the corset wearing till October 31st and embarking on a sensible regimen that involves healthy eating and safe exercise practices instead?
READ: 7 Winter Diet Tips Nutritionists Swear By