Health & Beauty
5 Must-Haves for Your Bridal Emergency Clutch
When it comes to your wedding day it pays to be prepared. To help, we rounded up the not-so-obvious essentials every bride should stash in her kit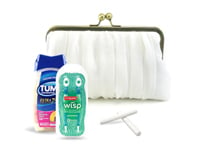 When it comes to your wedding day, "better safe than sorry" should be your motto. Being prepared can turn a potential disaster into a mere small mishap. For starters, you've probably already thought to have these basics on hand: blotting papers to prevent a makeup meltdown, hairspray to keep the frizz at bay, and tissues to touch up smudges and dry those happy tears.
But what about those other problems you might not have considered? We don't want to send you into a panic, but there a slew of beauty mistakes that don't involve your hair or makeup. To give you peace of mind we rounded up a few fast fixes for common bridal blunders. Stash them in a day-of emergency kit (and put one of your bridesmaids in charge of it) and you really will have all your bases covered.
Blister block
Walking down the aisle is just the beginning of your long day in heels. To make sure you actually make it to the dance floor later, be sure to pack a blister-blocking balm, which you can swipe on heels and toes to minimize friction from your sandals.
Chalk
Sure, Tide to Go is a smart product to carry, but you should also bring along a piece of chalk. It may not dissolve stains on your gown but it can cover them no matter the fabric -- lace, beading, or silk.
Nail file
Even if you got a mani/pedi the very morning of your big day, breaking or chipping could happen later. Filing down your nails can erase a broken or chipped edge in seconds.
Antacid
Just in case your get the last-minute jitters or the hor d'oeurves don't sit right, keep a tube of Tums on hand. The antacid will quickly calm an upset stomach and prevent your face from turning green.
No water toothbrush
Mints will freshen up your breath but you also will want a mini scrub so your teeth stay pearly white in all of those photos. There are plenty of no-water toothbrush options, one of our favorites is
Colgate Wisps
, $1.50.
more stories