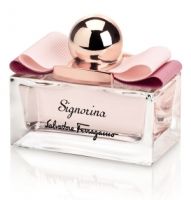 Salvatore Ferragamo Signorina
As low as
Review subject

Lovely smell, so feminine and suave, I would buy again.

Absolutely love this

I got a sample of this from Nordstrom about a year ago. This fragrance smells sweet and feminine but very elegant and classy at the same time. Definitely one of my favorites!

OMG In LOVE

Wow, wow, wow! I love this fragrance!! It's very feminine, slightly sweet, but also quite sophisticated! I got it for myself this Christmas from Macy's, and I am so in love. I gave it only 8 stars for two specific reasons: minus one star for the way the bottle looks (I'm partly a visual buyer, sue me!) and minus one star because it doesn't last AS LONG as I'd like. That being said, don't misunders...read moretand... it does last, it just gets a little faint as the day progresses. But I totally love it and when the bottle is done, if I'm not sick of the smell, I definitely plan on repurchasing.

Back
to top