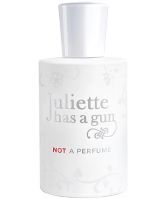 Juliette Has a Gun Not a Perfume
As low as
I've found my signature scent!

While I can't promise to be exclusive with my new-found love, since I'm a confessed perfume collector, I can promise it sits high above the others! I received a sample recently through Birchbox, which is a subscription service that allows a gal to try new beauty products based on her beauty profile. I love getting perfume samples because whether I love them or hate them, at least I know how they...read more smell on ME! Scent definitely changes with our own individual chemistry, so testing a fragrance on yourself is the only way to know if you will love how it smells on you. I have another perfume from Juliette Has a Gun, Calamity Jane, and it's not my favorite, but it's strong so I layer it with other scents and make use of it anyway. I knew of this perfume because after I got Calamity Jane, I loved their name and wanted to find out about any other scents or products they offered. I was really intrigued by Not A Perfume but also leery as it pretty much only has 1 note, and what if that note and I were not a match? So when I opened my box and found this sample, I got excited because the box smelled really good and a nice clean smell at that. The scent has great staying power and I find myself smelling my wrists often and even closing my eyes while I take it in, and it's an instant mood booster. I feel pretty, and sophisticated, and intoxicated - strange I know, but my husband has noticed as well. I splurged and bought the big bottle because like I said before, even though I love this scent by itself, I enjoy mixing scents and creating something new and different, and with a base this good, it'd be hard to mess up a blend starring this gem of a scent. I purchased through an online site since it was cheapest through them (with their 20% off coupon you get when you sign up with your email). Ordering directly from the company wasn't an option as they are a European brand and the shipping was almost as much as the perfume! They do offer a sampler of all their perfumes and I'm sure with a little googling one could find the sampler so you could meet this fragrance and all her sisters. I highly recommend you check this one out though, it's extremely unique, and I'll bet you fall in love like I did.

Love this

One spritz and you have created your own brave new world of fragrance. I get stopped so many times by people who ask me "what are you wearing" and who tell me how "fresh and clean it smells" . You truly need only one small spritz behind your knee and it lasts all day. Great scent for the office.

Back
to top