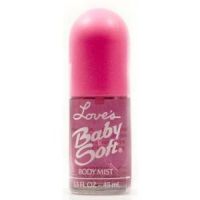 Eight Stars for Sweet Fragrance; Two for Memories

This gentle scent saw me through so many of my "firsts;" First boy/girl dance, first slow dance, first crush, first date, you name it. It has an innocent, soft, powdery scent which I still love and wear. My sister has a heartfelt attachment to this as well.

Exactly What It Should Be

I give this fragrance a 7 not because I would choose to wear it now, but because it a scent that is completely appropriate for a little girl playing dress up. I remember at about 8 my mother gave me this as a gift and I associate the scent with feeling SO special. It was my very own pefume and I felt oh-so-sophisticated spritzing it on. It's a very innoffensive scent-not sickly sweet- but powdery and gentle...now I almost want to buy a bottle for nostalgia!

A total classic!

I started using this scent many many years ago and have always kept a bottle on hand since. It's soft and powdery yes, but has just enough animalic scent in it to make it super sexy. It lasts on the skin, has good sillage and is just such a soft, warm beautiful scent. My son loves it and always comments when I wear it. I've had men comment on it how soft and sexy it is. One guy asked in a group of...read more people I was in, "Who is wearing that naughty baby powder?" That's really what it is. Sexy. Sexy. Sexy. It is definitely not just a scent for preteen girls. In fact, it is much more sophisticated! Not a big fan of the lotion which I feel is a little sour and pungent in comparison to the cologne. The body mist in the aluminum can though is wonderful!! Makes the whole room smell great and is a great pick me up in hot weather. My only complaint about this scent would be the bottle is not much to display and is just the most basic of designs. I prefer unique bottles that can be kept out and displayed and this is not one of those. Otherwise, this is just one of those perfect nostalgic still timeless scents that I will always own.

Back
to top