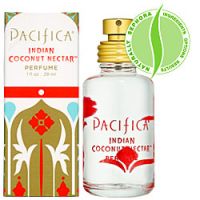 Pacifica

Curious about the many Pacifica scents available, I approached the table at a local Sephora to sniff them all. I discovered that the Gardenia was much too strong, the Blood Orange was too subtle, and the Guava too sweet, but the Indian Coconut Nectar was gorgeous. It smelled warm and naturally fresh I bought a set that included a rollerball, a body butter, and a body wash for under twenty dollars. Under the tree it will go.

Yummy

This is such a warm, summery fragrance! Its not a tanning oil type of coconut scent, its more mature. I love this for summer.

Fantastic Fragrance

I was worried that this would be too food-like when I ordered it, but my fears were totally unfounded. It smells so great that I can't stop sniffing! It's coconutty but doesn't make you smell like a cupcake. Awesome!

Back
to top