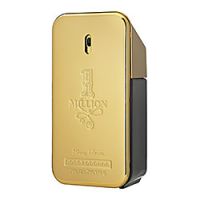 Paco Rabanne One Million for Men
As low as
alright

I like how this smells on my guy, but it's a little too perfumy and stong, you can definately smell the citus tones and it really seems like the guy who designed this went out of his way to REALLY make a statement, I don't want to sound too harsh but if it were anyone besides my bf wearing this I might snub my nose at him... luckily I only got the sample and didn't splurg on the bottle like I was thinking...

Not Manly

I got a sample of this perfume and the man's eau de toilette and I really wasn't all that impressed. Citrus and musk are just not really all that spectacular to me. It smelled like someone TRYING too hard to appear rich, to smell like a million bucks. I'd think this would be popular with the younger crowd because of the gold bottles and the fancy friends like Nina Ricci and Givenchy. Maybe, though, he should stick with architecture and fashion.

Nice smell

I got this perfume recently for my husband and it does smell good, on the strong and sweet side. I also purchased for him before the Davidoff perfume called Hot Water and I like the D&G perfume called The One. So, if you like the sweet but manly perfumes then you might like this one as well.

Back
to top