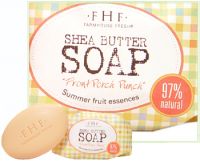 Farmhouse Fresh Front Porch Punch Shea Butter Soap Bar
As low as
Soothing, Wonderfully Scented Suds

In all honesty, I purchased Farmhouse Fresh® Shea Butter "Front Porch Punch" Soap to reach a certain amount of money spent because the give-away at the site was the "Whoopie Cream" I love. It is $9.00, a lot for a bar of soap, to be sure. But the size is enormous (I had to switch soap dishes). This is 97% natural. The lather is abundant; give it thirty seconds and you have bubbles galore! T...read morehe fragrance is a mix of mouth-watering fruits, particularly great for summer: strawberry, grapefruit, mango, melon, and peach (I also detect a slight hint of nut). It contains shea butter, olive fruit oil, glycerin, Vitamin E, and sweet almond oil, among a lot of other ingredients. I have used it to cleanse my face and hands; I'm going to purchase another bar for the shower. The scent is so delectable and refreshing that it is very hard to resist. While using it, you feel the softening ingredients going to work. But don't fear putting this in your kitchen and using it to remove excess grease from cooking. It is much like DHC's "White Soap" in that it deceptively deep-cleans while it comforts. I dare you to wash your hands or face just ONCE with this--I keep returning to it and repeating.

Bobbie Crump

Natural products are more beneficial to ones skin. It just gives a person the glow that comes from not using all those chemicals. I have never tried this product but I plan to in the future.

Back
to top