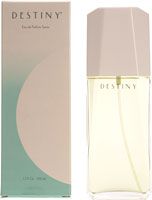 Marilyn Miglin Destiny Eau de Parfum Spray
As low as
I got this in a set with other of her gragrances.

Like the others, you have to use a little bit, because it can be overpowering if you use too much. It has a very different aroma, which I like. I would buy it again.

Not bad, pretty nice for an evening wear

I got this with phermone and it came with the parfum one too. The spray smells much betther then the oil parfum. I really like the baby fresh powdery scent it gives off and a little goes a long ways because it is soo strong. Would I buy it agan? No, because you can get cheaper one's that are much more universal. This scent is really good on winter evenings because it has a strong potency to it,...read more kind of a high class evening scent that reminds me of a really mature woman. When I'm old I doubt I will wear this, but since I'm still young I figure I can get away with it. It makes me feel classy when I smell it on my hair and wrist, but it is borderline old lady smelling so I spritz on a citrus earthy scent to mellow out the smell. I think all of her scents are over rated, but then again it is a woman who's in her 60's that's making this stuff and raving about it, I never see it advertised with women young than 40 yrs of age that's for sure. The parfum smells completely different than the spritz so I suggest if you wanna try it, get the sample first. I'm sure chemistry plays a big deal in this, but literally I can wear almost any perfume as well as men's cologne and get complemented on it.

Back
to top