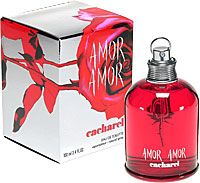 Conflicted

I haven't heard anyone use the adjective "soapy" to describe Amor Amor, but it is the thought I always have when I smell it. The top notes to me are almost violently soapy! I also would point out that it is one of those perfumes that smells much different on different people. For example, on my best girlfriend, it dries down to a scent that can only be described as "old lady". However, if you do h...read moreave a chemistry that works well with this perfume, Amor Amor offers a unique scent; which is to say that I feel it differs from the popular fruity/sweet /praline scents (think Viva la Juicy, and With Love) that seem to be so popular with the 40 and under set.

I like this scent

I like how this perfume smells but you should try it out before you buy it. Its not for everyone. Its hard to describe how it smells. It reminds me a little of some other perfumes. It smells kinda like one of Mochino's perfumes. I like that one too but that is no surprise since I like Amor Amor. The bottle is really cute. I like the red color.

A big surprise!

I was a bit unsure about this scent, it wasn't what I normally buy, so I asked my brother, who has a pretty good "nose" when it comes to perfume. HE LOVED IT! He ordered me to buy it, and like clockwork I would get compliments left and right (mostly guys). It smells vanilla-y, fruity, and sometimes a bit minty to me. It's one of the few fragrances that's been a hit with everyone who smelled it. It caused a few other of my female coworkers to buy it as well.

Back
to top