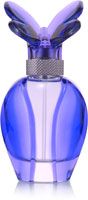 Mariah Carey-M Eau de Parfum Spray
As low as
Cheap Celebrity Scent

M, named after Mariah Carey, smells soft and pleasant, but you can still tell it is a drugstore perfume. I'd stick with the real department-store perfumes unless you're a teenager looking for a step through a rite-o-passage scent. It smells like a cheap floral that can annoy the parents but not do a ton of harm.

in the eye of the beholder

I really think perfumes are opinion based, so I feel no guilt in sayign that I love the scents, it lasts long, one spray is enough to fill the room. I am happy with it.

EW!

This perfume.. At first I did not believe that perfume could make a person gag. But then again, I did not think that music could make your ears hurt and give you a headache; well, I was proved wrong when I first heard Courtney Love's crappy man voice. Anyway, my mom hated this perfume and I can now see why. It sucks! Its cheap smelling and the bottle is hideous! I say this perfume line is the worst one I have ever smelled in my life.. It smells worse than a skunk.

Back
to top