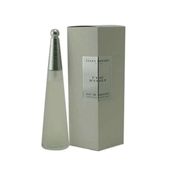 Fresh

This is a nice light and fresh scent that reminds me of Spring showers. It's not a scent for me but the lilies and rose smell dewy and light. It's a scent for a water sprite!

Very Unique green Spray

The scent is very very unusal and very green. I am not certain if I like the scent, but the comments are very nice when I wear the cologne

A non-scent scent...

I don't know why, I can't put my finger on it, I'm not really astute with those "this and that undertone" and "this and that note" descriptions (with perfumes or wine for that matter) but this scent just has the special something. It's fresh, light, and amazing. I love the men's cologne much better than the women's eau de toilette and can identify it if someone walks by and is wearing it. Since I ...read morehave worn it and loved it for years, too, it has really pleasant olfactory memories for me. : ) Love.

Back
to top