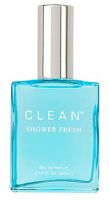 CLEAN! A Must

I use this more as a body spray and highly recommend buying any CLEAN sample set with this item in it as it seems universal (others might leave a stronger smell) but it takes a little while to find which clean is perfect for you. This one is super fresh and almost soapy but in a great way - really smells like you just showered. This is my second favorite to the limited edition summer fragrance (su...read moremmer sailing). Great to keep these in your bag ....use it mid day or as a base, not really a perfume. Lasts a good amount of time.

Fresh & Clean

I love the "clean" fragrances that have come out but am cautious as many have a little too much musk aftertone for me. This one does not-it is exactly what it says-clean. Very fresh and a little soapy, light and feminine without being too floral or heavy. I cannot get enought of it or the limited edition Summer version.

A Keeper

Possibly my favorite of my perfumes that I own right now. I love it so much that I want to only wear it on special occasions, but sometimes I can't help but put some on my wrists every morning, the smell lasts through MOST of the day, if I put it on at 7am, it doesn't start to fade for atleast 5-6 hours which I think is a good lasting time. The smell is just as it says, CLEAN, SHOWER FRESH. I love it!!

Back
to top