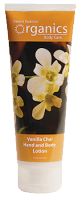 Desert Essence Organics Vanilla Chai Hand and Body Lotion
As low as
The Best Lotion Experience

Desert Essence Organics Vanilla Chai Hand and Body Lotion is by far the best moisturizer I've ever used! It came to me under the best circumstances. I received it from an online friend through what I thought would be a coupon/sample trade. She sent me a FULL 8FL OZ tube, just like the one pictured, absolutely free! I had never heard of the product line. I'm pretty much set in the brands of body ca...read morere products I buy, but always willing to try something new. After getting over the shock that someone I barely know sent me this, I read all the information. I was very impressed by the fact that its all natural ingredients, for the most part. I tried it on my hands. Right away the scent took me back to my childhood! The feel of the lotion was silky smooth. Not too loose or too thick. It absorbed into my skin very quickly, but still left my skin feeling moisturized. Its almost like its not just lotion...its a whole experience! LOVE IT!

Natural Lotion

I love Desert Essence Lotions, and Vanilla Chai is my favorite scent. It's reminescent of a cozy winter evening sipping on a warm cup of chai tea. It leaves my skin soft and not greasy. There are also no potentially harmful ingredients, like parabens.

Great

This lotion is wonderful and affordable. I like the smell of vanilla but usually find it a bit overwelming. This lotion takes an edge off of more overpowering vanilla lotions. This product has a light and non greasy feel. Sometimes I crave more of it right after I use it---but I do live in a desert.

Back
to top