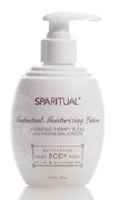 SpaRitual Instinctual Moisturizing Lotion
As low as
if you love the smell of ginger

I first got this through Beauty Fix, and it's easy to see why this was an official Beauty Fix pick. This lotion is so hydrating that you can feel your skin thanking you for putting it on. It's incredibly concentrated so a little goes a long way. It's quick absorbing, so your skin feels soft not greasy. It really DOES perk you up, it's great for those long days and late shifts. And the smell? Ohhhh...read moreh, the smell. I'm a ginger junkie, so if you don't the scent of ginger stay away, but if like me you find it irresistible, you will be in nirvana. This is one of the few items that I got a sample size of that I had to go out and buy the full size immediately so that I could slather it all over myself with abandon!

organic is not always better

This moisturizer is 83% organic "featuring ginger oil" It is Vegan and certified organic. I would not go out of my way to buy this product. It is a fast absorbing - almost too fast - moisturizer. You will need more of the product to cover an area. The scent will have you craving chinese food. When I first applied it and the scent hit me all i could think about was chinese food. Lu...read moreckily the scent lessens as time goes buy. It is not worth the $28.00 that the skinstore sells it for.

Back
to top