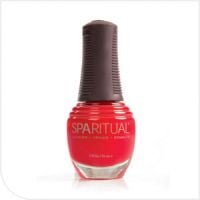 Better than ANYTHING!

OPI is overrated. China Glaze is just okay. Sparitual is the master of nail polish. It is absolutely worth the money. When I get a pedicure with a Sparitual polish, I can go 8-10 weeks easy with no chipping. It's a really good product. In fact, I am due to go in again before I would even need a touch up. Definitely give it a try!

Brilliant Colors

The bright colors are so eye popping! They look great in sandal season. Also, make sure to use a base coat to make the color last even longer!

Decent polish, but not my favorite

I have been a fan of Orly and OPI for years and have been wanting to try Spa Ritual for some time. The polish painted on very smoothly and due to the cotton candy pink shade I chose, it required 3 coats to look nice and even. My polished fingers lasted about 5 days and my toes went about a week and a half before severe chipping started. It is a good product, but I don't feel it is quite worth all the hype.

Back
to top