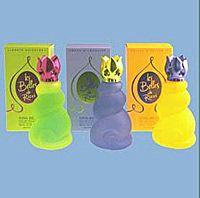 Nina Ricci Les Belles de Ricci Liberty Fizz
As low as
Review subject

AMAZING! Once I smelled it, I had to stop in my tracks and go back and purchase it.

Go buy it!!!

Les Belles de Rici is the most wonderful fragrance ever! It smells fruity and pretty making you feel in a happy mood! The best thing about it is there are no harsh tones making it overpowering. The presentation is imaginative in a cool swirly bottle. It is actually a very versatile perfume, not only for the day but also at night, not only in summer but it can make you feel summery all winter long....read more Although most people love it it does not suit some tastes. For instance if you are the sort of person who likes a very clean fragrance then Les Belles de Rici could get a bit sweet and sickly for you.

the best

I love this line of frangrance! It is hard to come by, the green bottle is my husbands fave for me to wear, its light and crisp, perfect for summer. The blue has a hint of almonds, and the yellow is fruity as well. I have fund myself having many compliments when wearing these. The quality is great, and scent does not deminish to soon, you can get these very resonably priced at some outlet centres.

Back
to top