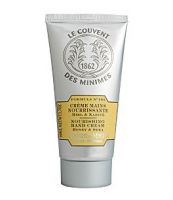 Le Couvent des Minimes Honey Nourishing Hand Cream

I try to keep a tube of this delightfully smelling product in my purse, my bed room, my kitchen, just every where. I am really hard on my hands. I do house work and dishes with out gloves and my hands are always in water. I use this cream after every exposure to water, and it the Winter here in Michigan, this cream is a God send. It keeps my hands looking and feeling great. It absorbs quickly...read more, isn't sticky or greasy, and it has made my hands look and feel so much better than before I started using it. The tube is very nice and it is recycleable, which is a bonus for me. It smells wonderful and it is very effective with continued use. I haven't even looked to find a better product because this is the best product for me.

One of the absolute best hand creams!

I discovered this line while I was working at Bath & Body Works and I fell in love. Not only does it smell really delicious but it's a powerful moisturizer that sinks in really fast, leaving you with soft, not greasy hands. I got my mom, who is a nurse and constantly washing her hands and wearing latex gloves, hooked on this. She, and everyone at the clinic she works with love this hand cream ...read moreand panic when they run out. Try it, you will not be disappointed with this or anything else from the Le Couvent des Minimes line.

love it

i love this hand cream and cannot be without it!!! how do i order it? i bought 25 tubes last summer from bath and bodyworks. i need more!

Back
to top