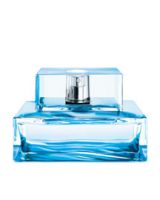 Review of Michael Kors Island Capri

Michael Kors' new fragrance Island Capri is delightful in the true sense of the word --giving great pleasure or delight; highly pleasing. The charming blue bottle and the name make me yearn for the Island of Capri. Island Capri is described as: "A sparkling, colorful floral fragrance infused with orange bigarade, succulent bergamot, velvety violet de parma, rich dark fig, and the sop...read morehistication of olive tree accord paired with warm white moss that captures the essence of the indulgent lifestyle of the island of Capri." I am not usually an aficionado of "island" scents, but Michael Kors Island Capri's spirit does capture the essence of the indulgent lifestyle of the island of Capri. My scentibilities are probably colored by my experiences one summer in Europe. I will wear this scent when I'm feeling nostalgic for the freedom of youth or nostalgic for a walk on a beach.

Michael Kors Island Capri Eau de Parfum Is LOVELY!!!

This fragrance is so amazing and is one of those fragrances that fly under the radar! I can't believe that it isn't more popular because it is one of the best scents that I've ever used. It reminds me of the summer and the boardwalk. It reminds me of a vacation to a beach house. It reminds me of that scent when there is a big breeze on a summer day. It is strong but not too strong at all, jus...read moret right. It lasts all day for me and I make sure the spray some in my hair in the morning before I straighten it. Then I smell the beautiful scent through out the entire day when my hair moves. The bottle is just gorgeous! The beautiful aqua blue perfume swishes from side to side and the bottle is completely clear, looking like crystal. It's like you are looking into the ocean through a magic crystal. It is the prettiest perfume bottle that I have and I collect them. Michael Kors is not just amazing at clothes and accessories, he is also a master at perfume! I hope this perfume begins to get the recognition that it should.

Loves It

Love, Love, Love the fragrance.

Back
to top