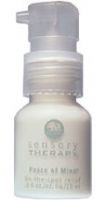 Peace in a Jar!

Origins is a company I just recently began using in my quest to go natural in my beauty routine. The first product I tried was the Night A Mins moisturizer (based on Total Beauty reviews) and I was so impressed, I checked out the other products' reviews here at Total Beauty, and knew immediately that Peace of Mind was my next purchase. Wow! I have suffered with migraines for 28 years and I cann...read moreot take any of the medications because of the effects to my heart so I have just suffered. Not anymore! Within 5 minutes of applying as directed, I found some relief. I also have fibromyalgia which keeps me in a constant state of pain, and Peace of Mind offered some relief from that as well. This little miracle in a pump bottle also helped with calming my entire system down. I am not claiming this is the be all end all of pain, but I would say if you prefer homeopathic methods to hardcore medications, or if you are a really stressed person who needs a little relief, Peace of Mind is a product you have to try. The container you get is small (.5 fl. oz.) but it only takes a drop on a few specific places (temples, back of neck, and earlobes) so it lasts forever! The price is fabulous ($11) so you can have a bottle at home, one in your handbag, one in your desk, and so on. My husband also gets frequent migraines, and this relieves a lot of the pain for him as well. My guess at how much relief would be 70%. Obviously, I cannot say enough good things about Peace of Mind so for $11 give it a try! I purchased this and the Super Spot Remover acne treatment gel ($13.50) directly from the Origins website. I received free shipping, 1 deluxe sample of Vitazing moisturizer, and a deluxe sample of A Perfect World moisturizer! I also want to say thank you to my fellow members for leaving reviews that are honest and spot on!

Instant stress relief

The sensory therapy line is such a relaxing and peaceful scent. I love this for instant stress relief and where at any time of day!

Relief in a jar!

I love origin products and this particular on-the-spot relief is perfect for my migraine headaches. I use it when I feel a headache or migraine coming on. Just rub a dab on the temples, nape of the neck and a little under the nose for the aromatherapy and "voila" relief in a jar! I keep one handy at all times with one in my purse, one at my desk and one in my medicine cabinet. This is definitely worth trying and worth every penny!

Back
to top