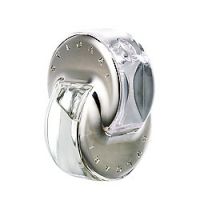 Very nice!

I love this scent. I had a sample a few years ago that I loved, then I forgot about it until I ended up with another sample a couple weeks ago. I'm wearing it today and it's really nice. I feel like "crystalline" really is the best word to describe it. It's not super heavy but it stands out and it definitely lasts a full day. I need to add this scent to my "must buy" list!

Awesome bottle, stinky insides

Ick. Not for me at all. it smells like a very harsh soap mixed with baby powder. Not for me. I think that this was one of the worst fragrances I've ever experienced. I am sure it would smell different on other people but on me it was bad. I also didn't like how it smelled in the sample bottle. I have to admit I picked this specific perfume because I fell in love with the packaging. I thought that the attached rings or infinity symbol was super neat.

THE BEST

Ok, huge perfume snob, and Bulgari makes some of my favorite scents, and this includes this one. It's so light, and fresh - you can't beat it. I, personally don't think it lasts too long, but I get compliments on it all day. The bottle is also gorgeous, and matches the other in the OMNIA line.

Back
to top