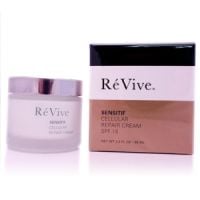 Love this Repair cream

I have used alot of claimed amazing creams, but this Revive beats them all hands down. I look younger and my face feels softer. A+ and worth the cost.

LOVING ITTT

Such a great product. As soon as I put it on I feel it working in my skin. After using products like Neutratone and La' mer I didn't think anything could beat them. Yet this cream is really good. I still prefer neutratone because it consolidates my favorite ingredients, but this one is SO WORTH a try.

great product

I can highly recommend this cream!after using other brands like La Prairie caviar and La mer I'd never thought that anything else can impress me but I was deeply impressed by this cream which made my lines smoother, though I have just a few and evened the color. I even noticed that if I have any pimple and I put the cream, it removes it quite quickly without using any other product. I can't promis...read moree that it works against blemishes but it really works for me!I'm looking forward to buy other products from ReVive!

Back
to top