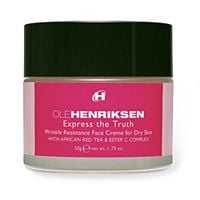 Great for night and cold days.

A bit oily and very moisturizing and soothing for dry skin. Great as night cream or days you don't wear makeup, since makeup will just slide off your face. Pleasant, almost unnoticeable scent.

Exceptional Product

Great stuff! Amazing ingredients, nice scent, highly moisturizing! I'm impressed with this whole African red tea line!

Holiday set 2011!!

I recently purchased the holiday set which comes with a full sized express the truth and coordinating truth serum and eye cream. I love it! I wake up with really smooth nice skin and the smell of the product is pretty invigorating! The set is 75 bucks but it beats just buying one cream for 65 bucks..gotta love the holidays :D cheers!

Back
to top