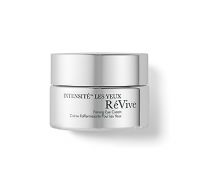 So good

Really Wonderful product..

Great, but!!!!

My main problem is dark circles, and I've been trying to find something to get rid of them. All I tried seemd to reduce them, but not to the point that I would stop wearing concealer (which is my aim). I've been using this eye cream for 5 months now, I'll admit that my dark circles reduced noticeably. But then, I noticed that my eye lids started sagging. That is mostly cuz I used to rub the cream ...read moreall around until it was fully absorbed. So I changed my application technique to shift to patting the cream once I feel that there isn't enough cream for my figures to slide on my eyes. I must admit that the effect of the cream has reduced a lot since I changed my application method. So now I'm trying to find another eye cream for my dark circles, and looking for a firming serum as well. I did not consider the price in my rating, as I believe that a good beauty product, is worth paying for whatever the price tag is.

Holy Grail Worthy?

Maybe. This is a fantastic product and it definietly has the "holy grail" price tag. Worth trying, but see if you can get a sample before splurging on it.

Back
to top