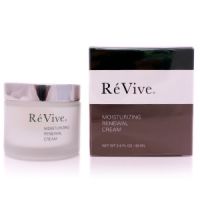 Absolutely not!

Worth the price? No. Great product? No. Lasts long? No. Will I ever buy this again? No.

bad bad bad!!!

well ill begin by saying that i have only used this for about two months and this is the story so far.............. i live in israel and we dont have "revive" sold here in department stores so until now i used two other VERY top brands such as "la prairie" and "la mer" (witch are sold here at stores among other brands) and i was very pleased with them,but i felt i wanted to try somthing else and...read more when i decide to try a new brand i BUY all of the line!!! so i heard the rave about the revive brand and wanted it now the problem here is that be cause revive is not sold here then i would need to take a risk and buy online without the option to go to the store and try some before i buy the big jar so i ordered a bunch of revive products online (all of them cost me around 1500 us dollars) plus i ordered the "clarisonic skincare brush" now i just started with this cream and i wanted to LOVE it sooooo bad (cause i read so many great reviews about it) and so far no good!!! i really cant say anything good about it. i dont see the "GREAT GLOW" and the most bad part of it is that i suffer from severe breakouts on my forhead since using this (my skin was VERY smooth before) i called the company and they said to wait 2 weeeks for the breakouts to go away. so ill wait and keep you guys posted UPDATE: so i promesed i would update and i just stoped using this!!! this has got to be THE WORST CREAM I HAVE EVER PUT ON MY FACE!!! so many breakouts,NO MOISTURIZING EFFECTS,no "glow" just a felling of anguish and distress that i spent over 1500 us dollars for my new revive skincare regimen and insted of felling good i felt like i was tricked but i only have MYSELF TO BLAME!!! i left what i loved and used for the past 4 years to try somthing new. now im going back to what i love (la prairie,guerlain,and some chanel) and my face will thank me so much p.s. all the other products i bought from revive along with this cream turned out like shit. the only thing i liked from ALL the things i bought from them was the gel cleanser "revive cleanser gentil" sarai from israel:-) p.s. sorry for my spelling errors

Nice but for the price??

This is a great product without a doubt! BUT, that being said.. if you are a person that has alwasy taken care of your skin and have for the most part used professional products from either a spa or a Dr you will more than likely be disappointed. I use this comparison to my clients.. If you've used Oil of Olay your whole life and start on a medical grade product line then WOW the results will be a...read moremazing, BUT if you are on a medical grade line or something comparable then go to a store brand, you will either see no difference or your skin will lose ground so to speak. It is a great product for those that can afford it and for those that haven't invested in other products and treatments.

Back
to top