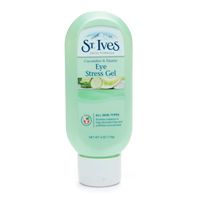 i bought a ton of this

its so hard to find now. i guess b/c of the being discontinued. its really great, i love to use it all over as a mask on my dry skin days, and keep it in the fridge all the time for my eyes...i cant find anything to replace it either. too good to be true, i guess, i will miss it when its all gone....

Good for stressed eyes

This is hard to find, but when I do find it, I absolutely love the way it feels. It really depuffs the skin and it so cooling. Love the cucumber scent as well.

St. Ives Cucumber & Elastin Stress Gel for Eyes and Face

Absolutely wonderful product. Bless it! Why is it discontinuted?? It works! I've never had another item that really depuffed my eyes, and it works so quickly and leaves no residue and doesn't over tighten but really softens skin and truly does de-stress it. Why end a good thing? Why?!

Back
to top