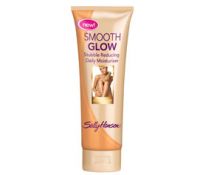 Editor's Rating & Review
One little bottle claims to offer so much: moisturizer, self-tanner and stubble reducer all in one. Shea, mango and cocoa butters are great moisturizers, but you're in for an epic wait (more than the usual self-tanner) while Sally Hansen Smooth Glow Stubble Reducing Daily Moisturizer dries. The product claims, "70 percent of testers experienced a 50 percent reduction in hair removal," but we found no decrease in stubble.
Reviewed by Kristen on 12/18/2007

How we review products
Great lotion, but no hair reduction

No effect on hair growth. However, it is a good basic moisturizer with an okay scent. Does give you a bit of a "glow" after a few days. Don't expect miracles with stubble free legs though!

Doesn't work

Did NOT like this product at all

Love the 'self tanner' part...stubble reducer? Dont think so...

One of the best self tanners on the market, esp for the price! Love the smell!! Is it vanilla? Really love the smell and No orange No streaks! I cant find it in stores anymore though! Which makes me so sad because Id buy it as a lotion alone for that price! the self tanner is a nice gradual look...a few days for a beach look but still recommend highly! Wish I could still buy it in a store though! ...read moreBanana Boat makes my first favorite and Jergins for face. Some rub off on your towel even after you shower but this one doesnt for me...Love it! If anyone knows where I can buy it in a store please let me know!

Back
to top