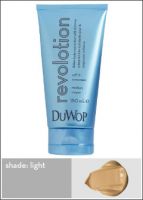 Pretty Great Tanner

This one both hydrates and makes my skin a nice, normal color. I use this without fail every time I shave my legs ( I have very fair skin & I use the lightest shade just to give a hint of pigment). Once, I accidentally bought the darkest shade - and for a lark - I used it all over. The result was that I became a very dark version of myself - but I looked normal! Not too orangey like happe...read morens with some products. It was fun but it was not me so I'm now back to the lightest shade and loving the color.

Doesn't Rub Off

If you are fair like me, and HATE self tanning like I do, I recommend this product. It is more like body makeup than a moisturizer and does not rub off on to clothing. It blends in easily and a little bit goes a long way. The color is natural and has sun protection too!

Great!

This stuff is great - I tried some recently at Sephora hoping I would snag a few free samples and have a laugh on them, but I actually went out and bought it! It feels a tad greasy going on but goes on pretty smooth and blends well. It hydrates and makes you look like you spent an afternoon in the sun and not in a hunched in a sun-starved cubicle. The only drawback is I think it may be darkening the look of my pores - they are large as is and prone to blackheads.

Back
to top