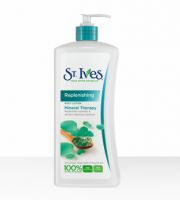 I used to love it...

I used to absolutely love the mineral line but after learned in contains so many harsh chemicals I've stopped using it.

<3

cheap, but works well, feels good and smells...icelandic? i like the picture on the bottle too, i confess its why i bought it....but the lotions a real winner!

More of a cream than a lotion

This is a great moisturizer at a great price. It absorbs readily and hydrates my dry skin for most of the day. However, I only apply it first thing in the morning, so that the sour dairy smell is gone before I put on my clothes, and I certainly don't want it on my sheets. My other complaint is that the packaging is all wrong. The lotion is too thick for the pump, so I have to unscrew the top to get to the lotion. St. Ives should repackage this in a tub.

Back
to top