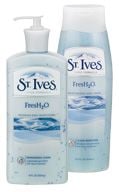 cooling feel

I overall loved the way this lotion keeps the skin feeling cool and moist. However, the beads in the cleansing aspect annoy me and feel too scratchy. It has a fresh smell.

I like this body wash

My girl and I like all the StIves body washes. This one is not as good as the others but still cleanses well. It moisturizes my skin but the mineral one does that and more. I would buy this one again if there is a good sale on it. Otherwise I'll stick with the other ones.

why is this not available anymore

I love this Lotion! wish they would bring it back asap!

Back
to top