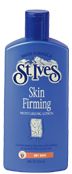 cheap [but in a good way]

i like the deep blue bottle of this. and the smell. i always buy firming lotion since i had my second son, and really i havent seen any thing getting firmer with this lotion, but it does keep you nice and moist, and cuts down on those weird little wrinkles i see by my elbows and in my cleavage sometimes.

Good lotion

I liked this lotion, but I didn't love it. I liked the smell at first (it's a medicinal smell), but i got sick of it after awhile and didn't want to use it, because I got so sick of it. It's a normal lotion that moderately moisturized and moderately firms your skin. Overall, it's a good, simple lotion for the price. I can understand, however, how people wouldn't like the smell and agree that there are better lotions out there.

Firm look doesnt last but DOES firm!

I had this in a light blue bottle..but whatever i guess its the same product. I bought this a couple times and this did firm my body and gave it a nice healthy look. I felt it kept my skin nice and supple and soft...though the firm affect doesnt last..but this isnt bad for the price!

Back
to top