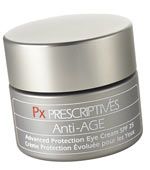 Editor's Rating & Review
Along with the helping skin fight the usual damaging suspects (sun, pollution, stress), this product claims to guard against a new face-aging foe -- excess sugar -- with ProGlyco Preventative Complex. Consuming lots of sugar might contribute to free-radical damage and the breakdown of collagen, but it's a tall order to claim that this formula blocks sugar in a way that prevents or treats skin damage. Another thing: If it gets in your eyes (and it will), it stings like crazy.
Reviewed by Kristen on 10/04/2007

How we review products
nice and light

feels great on my skin, and as good as anthing else i have used

Irritated my lid skin

I was looking for an eye cream with an SPF, which is not easy to find. I have tried almost everything available. I tried Prescriptives and the product did not feel bad. It irritated my skin though. There was a dry patch on my upper lid, which disappeared a couple of weeks after I stopped using the product. I am still looking for a better solution

Stings!!!

Oh my goodness! This will get into your eyes and it will HURT! I love the way it feels around my eyes, but definitely not when it gets into them. So far, I haven't used it long enough to see any results, and I don't think I'm going to even try. Thank goodness I didn't have to pay full price for this.

Back
to top