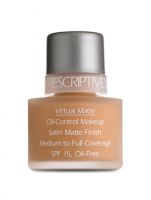 Even coverage, slightly "heavy"

Having oily skin I bought this foundation and gave it a try. It did cover well but was a little too heavy for me considering I didn't apply very much. I didn't notice any improvement in oil control but the foundation did stay colour true and lasted all day. Great variety in foundation shades too.

Prescriptives is going out of buisness

I was at my local Macy's and Bloomingdale's today and found out effective 12/31 Prescriptives will be closing. She did say that you can order the product online until they run out. I'm so upset. Virtual Matte Makeup is the only make up that keeps my oil under control... I love how natural it looks. The bad thing about it, they didn't have the shade that I wear so I wasn't able to stock up!!!!

A match for everyone!

I am about as pale as a person can be. A wonderful woman at perscriptives spent an hour and a half making a costum blend that is Amaizing. It is a perfect match to my skin. She did a color analysis and was able to help me determine what shades would complement my skin. She also showed me many makeup tricks I have never seen before. I highly recomend going to one of their counters before they clos...read moree and get a color analysis done if nothing else. Most people have worked there for years and just want to share their knowledge before it closes.