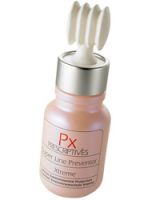 Family secret?

Let me just start by saying mom used this for many years, from the time it came out in the 80s until very recently. She is 56 and her skin looks amazing. I just turned 29, so I am really starting to be concerned about anti-aging products, but most of them make me break out. Yeah, I'm fighting acne AND wrinkles at the same time. Lucky me! This product has not caused one single breakout. In fact, I ...read morethink that this actually seems to help my breakouts heal faster. It is not sticky or heavy at all and is absorbed right away into my skin. I love that I can use it on my eyes as well, so I don't use a separate eye cream. I've been using this morning and night for about 8 weeks and the fine lines I do have seem to have diminished slightly. What I really notice, though, is that my whole complexion is brighter and healthier looking. I put it on before moisturizer and makeup and seems to make my foundation and concealer go on more smoothly. I also put it on under my night cream, or skip the night cream entirely if the weather is humid. I also put this on after I get Glycolic peels or Microdermabrasion and it's so soothing, and again, not irritating at all. Bottom line is that I am hooked on this stuff for sure. I've seen it on eBay for cheaper than the Prescriptives counter, but given a little goes a long way, I wouldn't mind paying full price for this.

works fairly well

I think this product works fairly well in line reduction.

made my mom breakout

i got a sample of this stuff and was doubtful of this product. so i gave it to my mom to try it out, since i have acne-prone skin and she doesn't. she broke out all over her chin after using this, and she never has any zits, and i feel soooo horrible!!! so i had to write this review right away to warn you guys that this product doesn't work for everybody. i would recommend the estee lauder advance...read mored night repair instead because that one doesnt make you break out and works wonders compared to this one.

Back
to top