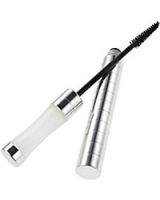 Editor's Rating & Review
The brush on this baby may look jumbo, but its genius, tapered design makes reaching even the tiniest corner lashes easy. Results aren't instant or "spectacular" as advertised, but lashes can look about 40 percent longer and more defined after precise application. Expect a natural, delicate look that's smudge-free and easy to remove. Slight clumping can happen after you've used the tube for a month or so.
Reviewed by Charli on 10/04/2007

How we review products
Prescriptives Beyond Long Maximum Lenghth Mascara

Although I love the packaging, this mascara just didn't do it for me. Yes, it does lengthen, but at the expense of any remote amount of volume and definition. On the other hand, when I layer this over Clinique High Definition Mascara, my eyelashes looked fake..and fabulous! It's pretty tame on its own. I love this mascara, it certainly works for me. I like the slimness of the wand so u get good an...read mored close to the lash line. It makes my eyes pop and I don't get clumps. I have tried so many mascaras, Dior, Chanel, Lancome, etc. and I always come back to this. I find this to be volumizing and lengthening. It lasts all day, doesn't smudge and gives me the exact look I want. I used to use Lancome's lash primer and then Definicils, but this does the same job for less than half the price of those two products. The applicator is very ergonomic, with the cushioned top (kind of like a pen with a cushioned grip). It lasts as long as any other department store mascara I've tried and you can easily apply a second coat if you like. I have moods when it comes to Mascara and I try different kinds from time to time trying to achieve something different. I even bought a set of 4 mascaras from Prescriptives that had their main mascaras. I love them all but every time I return to the Beyond Long. I have pretty full lashes, so I just curl and sweep a little of the mascara and my lashes are dark and lengthy and super flirty and pretty. No flaking, no smudging. I highly recommend. Yes, it's expensive but pretty midrange for the non drugstore mascaras. I loved this mascara when I tried it on. I was almost tempted to return the Lancome's Fatale I just bought to buy this one. (I wish I did) It gave such amazing length to my lashes. I was amazed they could look so long. The only problem was that there wasn't any volume added at all. (Which is fine, as it doesn't say it's suppose to, but I was hoping so). If you were looking, you could see the length, but on darker skin as I have, you can't see it very well if there's not volume. So if you have naturally pronounced eyelashes, and just want them longer, this is the mascara to buy. It's also upper midrange in price. (About $20.) Everything is perfect about it. My mom borrowed it and immediately wanted to purchase it. It's the right color, consistency, packaging, price, and formulation for me. I tend to be messy when applying and the brush on this one helps prevent that, while giving me the "long and smooth" lash look I love. The packaging is really cute and the silicone or plastic or rubber part on the wand makes the wand really easy to hold. I really do love this mascara. It's the only one that I have ever worn that I have gotton compliments on what nice eyelashes I have. It's a very nice product from perscriptives as well as their camoflauge cream conceler. However the only reason I did not give this 5 lippies is because after a couple of hours it does tend to flake off and land under my eyes which can make me look like a racoon. My makeup tip is to use a little of the langerai and galashes from urban decay. The primer may help the mascara to better adhere to the lashes. Amazing product overall.

Best Mascara

This is my favorite mascara right now-- until I can find the HG mascara-- especially one that is natural. Anyone have any suggestions? I love this brush. Like another reviewer said, it looks huge, but it gets into the corners well and makes application a breeze.

a great mascara

This is a really great mascara. It does not clump and makes my lashes look longer and thicker. The only mascara I like as well or maybe a little better is Bare Minerals flawless definition mascara.

Back
to top