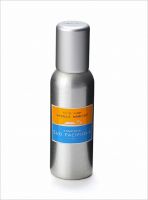 I like it but not all will

This one is interesting. I have a big bottle and it's lasted awhile. I am not always in the mood to wear it, but when I am I smell like "a delicious coffee drink" per my significant other. It's definitely got some peach in it but not that rank synthetic peach you get sometimes with various body washes and perfumes. The vanilla is subtle, I'd have to agree you do sort of smell like a Starbucks ...read morecoffee. In a good way. It's not sweet. It's one of those smells you do need to smell and decide for yourself, I could see a lot of people hating it and a lot of people becoming big fans. I was worried due to the bottle (no glass, aerosol type spray) it would smell like a body spray. Definitely not.

Cult favorite

The much beloved vanille abricot or "vanilla apricot". It's a dreamy scent to layer with any other perfume you desire. I like to test it out with my perfumes. It's a sweet confection of vanilla sugar candy and fresh apricots. I like it, but use vanille peach instead.

All Time favorite scent!!

MY ALL TIME FAVORITE EVERRRR! Find it slightly pricy for the little container you get, so I wear it usually when I'm going out for the night! Love the packaging, as its the one bottle I can actually travel with and not worry about shattering - Super Sexy - and yes, sweet, but the apricot cuts out the "candy" aspect - anytime I have ever worn this, guys rave about how good I smell - I onl...read morey put on 2 or 3 spritzes, and it lasts so subtally throughout the night.... very oriental scent as opposed to gourmand - I suggest anyone who smells it originally straight off the packaging, to try wearing it just once and actually see how it reacts on the skin! I 1st had tried it from a sample through Sephora, which is how I fell in love.... This scent does come in a Limited Edition Bottle which I have yet to buy, and don't know if its still being sold.... but hope to!

Back
to top