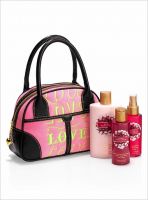 No Need to Fork Over That $100 Gift Card

These make the perfect gifts at a reasonable price. Three deluxe sizes of their fragrance items in one handbag make it an instant deal and with a handbag, you can opt to skip the giftbag and hand this over instead. While the handbag isn't the most appealing piece of accessory in the world, the deal is what's inside. Three middle size items that are larger than travel sizes give you a reason to ...read moreconsider this for occasions especially because they come in two popular scents: Love Spell and Pure Seduction. I must have given about four of these out to my teenage cousins last year for the holidays and they like them a lot.

MMM MMM GOOOOOOD!!

I ABSOLUTELY LOVE Love Spell and Pure Seduction!!!!!!!!!!!!! They are both sooooo yummy smelling and I get compliments EVERY time I wear either of them. I even mixed a little of each into a clean, empty spray bottle I had and together they smell like HEAVEN!!! I love how VS always does the 6 for $30 deal so I always buy 2 each of the sprays and then 1 each of the body lotion. LOVE LOVE LOVE IT!!!!!

I bought 2

Bought one for myself and my hard to please daughter in law and they are a hit with both of us. The smell is to die for and the little purse is so cute. I will be buying more for friends around Christmas, and myself as needed!

Back
to top