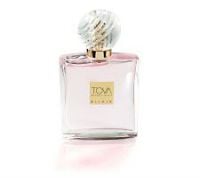 Tova Signature Elixir
As low as
Why look further?

TOVA's first fragrance and it was the biggest success!! She spared no expense making this one, and it sure smells like it! I have yet to run into another woman wearing it at a party yet, so it means I don't smell like all the other women and the men certainly DO notice!! This has a nice head of Jasmine to it is a scent that will be remembered, and does last until removed! You can only get it on QVC but keep eye out for specials.

TOVA YOU'VE DONE IT AGAIN

THIS SCENT IS WONDERFUL AND BECAUSE IT IS A ELIXIR THE SCENT REMAINS WITH YOU TILL YOU TAKE IT OFF.IT'S A SCENT THAT PEOPLE WILL SAY WHAT ARE YOU WEARING IT SMELLS SOO GOOD IT HAPPENS TO ME EVERY TIME I WEAR TOVA SIGNATURE ELIXIR.AND IT'S NOT OVERPOWERING OR A OLD WOMAN'S SCENT IT'S VERY INTOXICATING AND FRESH.TRY IT IF YOU WANT TO BE REMEMBERED OR DON'T IF YOU DON'T WANT PEOPLE TO COMMIT ON HOW GOOD YOU SMELL AND WHAT IS IT.I LOVE TOVA ALL OF HER SCENTS.

Back
to top