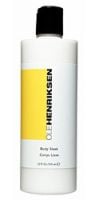 Ole Henriksen Body Sleek Hydrating Lotion
As low as
Highly recommended

it is a little expensive for a lotion but i can't find a cheaper lotion that does the same thing. its got a lemony scent to it. not too heavy. honestly i adore this product. Bonus: i have stretch marks on my butt and this lotion has smoothed it out! which is weird because i don't think that was supposed to happened but hey no complaints here!

liking it but not the smell

OMG! I was suprised about this lotion. Alot better than I thought. I'm not the biggest ole-fan, I have used some of his products with mixed results. So I was sceptical to this lotion specialy when I checked the INCI-list and saw that it contains sunflower seed oil. My face/body don't like ant oils at all, my skin doesn't absord it and only makes it feel greasy. But this works wonders! I use it mos...read moret as a handlotion, and I have to say this is one of the best I have tried! Absorbs fast, and no greasy film after. The best part is that the soft feeling that you get last much longer than other lotions/creams I have tried. The only bad thing is the smell. Horrible at first. Smells like syntetic flowers ( to strong), like something that would be used in air freshner or in cleaning product. But the smell goes away after a while

It's Honey, Darling.

Honey! Did I say honey? The Ole Henricksen Body Sleek Hydrating Lotion is amazing. The subtle smell and silky lotion leaves your body feeling like it's been wrapped in a honeycombed glove. My skin simply glowed like never before when I applied this product. It was well worth the $28, especially since my skin has taken a beating with the cold weather. It's pure luxury. Your skin will thank you for it later.

Back
to top