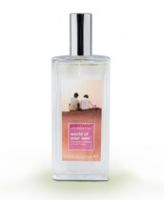 Yummy

This is an intensely comforting blend of vanilla and little touches of ginger and ylang ylang, and it is absolutely amazing. Instead of smelling like a stale cupcake you get a warm, true vanilla scent. It is a much better and more layered fragrance than the line's typical Happily Ever After. The staying power could be much better, but with this being my absolute favorite vanilla scent, I really don't care.

Great Scent

I like this perfume. I like the fresh scent and wear this almost daily. It is not expensive. I will continue to buy this.

Finally a natural scent

This product is perfect for me. The scent is light and the ingrediants are natural, stays with me all day after only one aplication. There is value for your buck with this one since the scent lasts all day, no need for additional application. For those who have never liked a heavy perfume this may be what you were looking for. Finally a scent I can enjoy!

Back
to top