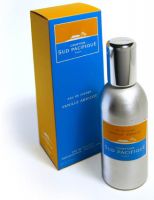 Great!

This one is interesting. I have a big bottle and it's lasted awhile. I am not always in the mood to wear it, but when I am I smell like "a delicious coffee drink." It's definitely got some peach in it but not that rank synthetic peach you get sometimes with various body washes and perfumes. The vanilla is subtle, I'd have to agree you do sort of smell like a Starbucks coffee. In a good way. It's n...read moreot sweet. It's one of those smells you do need to smell and decide for yourself, I could see a lot of people hating it and a lot of people becoming big fans. I was worried due to the bottle (no glass, aerosol type spray) it would smell like a body spray, which is the last thing I was looking for. Definitely not.

Yum!

I just bought this scent at an up-scale perfume bar in California. I love it. I think I sniffed every perfume in the place, and I kept coming back to this one. It's warm, sexy and yummy! I love it!

My favorite for years

Most vanilla fragrances are incredibly synthetic and cloying - not this one. It's sweet, but not at all overpowering, and it wears beautifully throughout the day. I've tried the other Comptoir Sud Pacifique fragrances and come back to this one time and again.

Back
to top