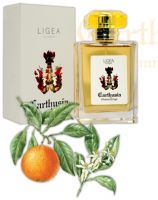 Carthusia Ligea Eau de Toilette
As low as
Carthusia

I have the luck of living only a couple of hours away from the place where they produce an sell this wonderful fragrance

MY SIGNATURE PERFUME: CARTHUSIA LIGEA

I am over 50 and it seems my body chemistry has "changed" also. My perfume I had used for years no longer smelled the same. Locally we HAD a perfume dealer who had quite a lot of exotic perfumes. I went in and PAPER SPRAYED many and took home 4 samples. I am passionately in love with this perfume(Fragrance rates a 10). Once at the butcher counter with my drop dead gorgeous 28 year ol...read mored English step-daugther, the butcher told me "you can have anything you want the way you smell". I kid you not - I was quite taken aback, as everyone flirts with Mickey. After all, this is LIGEA "LA SIRENA" (The Siren). Aw the power of perfume. One drawback for me, I wish this perfume had more of a staying power(Rates an 8). PS my "Dealer" is out of business & that is why I am here @ Total Beauty.

Back
to top