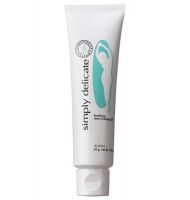 Avon Simply Delicate Soothing Anti-Chafing Gel

I love this product. It works perfectly. At the time I purchsed 6 tubes. Tthank goodness! But I'm on my last tube. SO, why did Avon stop making it and selling it? Everything the product claimed it would do, worked exactly and perfectly for me. I've been checking with other Avon reps to see if there is any leftover stock as I would purchase cases of it. IT's silky, smooth and corrects any irritati...read moreon you would have. I hope someone out there reads this review and has tubes or cases they can sell me. I check Ebay also and don't find it there either. One of Avons' BEST products. I say it's a FIVE STAR product and if 10 stars are shown, then it's a 10 star product.

Avon Simply Delicate Soothing Anti-Chafing Gel

This product works wonderful for us women of size. The quality of the product is great It goes on smooth and turns into a rather pleasant smelling powder.It worked wonders for me an i shared this information with my co workers who was just as pleased as myself. Where can i purchase some i am running out . I've searched everywhere.

Love it!

This works great!! It has a nice soft fragrance and feels light and silky.

Back
to top